5G in China now has about 100 million subscribers but the results in the West have been dismal. T-Mobile is bringing lower-priced phones to the U.S. while upgrading ~3,000 towers per month. On the lightly loaded network, speeds average over 300 Mbps. A promotion drives the cost down to $200.
1/3rd of the U.S. will be covered with mid-band 5G yearend, and They won't stop. TMO has passed AT&T to become #2 in the U.S. and is going after Verizon. For at least a year and possibly two or three, TMO will have a much better network.
Both Verizon and AT&T have been cutting capex and praying consumers won't care that most of their "5G" is slower than decent 4G. Verizon's mmWave Ultra is the fastest network in the world, but 5G customers connect to it less than 1% of the time.
TCL is the second largest brand of TV's, with sales expanding rapidly from new manufacturing plants in Mexico, Brazil, and Vietnam. It offers 5G 8K TVs and even a 5G robot. It owns the Alcatel brand for phones but is mostly selling under TCL. Its phone business has been weal the last few years and it is using low prices to win share. 13 companies are fighting for the 5G market where only a handful can make money. The resulting price war has brought prices all the way down. See 5G Phones $199-260.
I'm about to raise my 2020 forecast from 210 million 5G subs to 220 million on the strength in the West.
Everyone: Make 5G Phones Cost Less
T‑Mobile: Meet REVVL 5G
August 27, 2020
What's the news: T-Mobile's unveiling the new lineup of wallet-friendly, feature-packed REVVL smartphones: REVVL 4, REVVL 4+ and REVVL 5G, America's most affordable 5G smartphone, ever. T-Mobile customers who switch or add a line can get the REVVL 4 or 4+ for free or the REVVL 5G for just $200 after 24 monthly bill credits.
Why it matters: 56% of consumers familiar with 5G are worried about the cost of 5G smartphones. T-Mobile believes that everyone should have 5G access included at no extra cost AND affordable 5G smartphones that can tap into it.
Who it's for: Everyone, especially those who like being on the cutting edge without breaking the bank.
BELLEVUE, Wash. — August 27, 2020 — 'Affordable 5G smartphone' is no longer an oxymoron. T-Mobile (NASDAQ: TMUS) today continued to deliver #5GforALL, unveiling the next generation of the company's REVVL smartphones: REVVL 4, REVVL 4+ and REVVL 5G, the most affordable 5G smartphone in the US ever! And to really crush that price barrier that's keeping people from enjoying 5G, anyone switching or adding a line can get the REVVL 5G at T-Mobile for just $200 after 24 bill credits — half off its regular $399.99 price. The REVVL 4 and REVVL 4+ tap into T-Mobile's LTE network whereas the REVVL 5G taps into T-Mobile's LTE and 5G (600 MHz and 2.5 GHz) on the first and largest nationwide 5G network. And to truly bring #5GforALL for both prepaid and postpaid, all three REVVL phones are coming to T-Mobile and — for the first time EVER — Metro by T-Mobile on September 4.
"We've made incredible waves in 5G — with more coverage than AT&T and Verizon combined and the WORLD's first standalone 5G — but we knew to truly make #5GforALL a reality, we needed more affordable 5G smartphones," said Mike Sievert, CEO of T-Mobile. "And that's why we're launching the REVVL 5G — to smash one of the last remaining hurdles keeping people from getting 5G, at a time when America needs reliable connectivity the most."
Making Reliable 5G Connectivity More Affordable
People are turning to their mobile devices even more to stay connected. An eMarketer2 study found that for the first time, adults will spend more than 3 hours a day on smartphones in 2020, a 13.9% increase over 2019! People are looking for more ways to stay connected without breaking the bank … now more than ever. Yet, 5G smartphones typically cost upwards of $1000. A recent Civic Science survey1 showed that 56% of consumers familiar with 5G worry about that high cost.
With REVVL 5G, T-Mobile continues to make more reliable 5G coverage more affordable to millions, helping them stay better connected on the nation's largest 5G network. Meanwhile, Verizon is still over there making their customers pay a premium for 5G smartphones that get a 5G signal just 0.4% of the time. #TruthHurts
Not Just Affordable. Tricked Out, Too.
The REVVL line is known for its high-end specs without the high-end price tag and that continues with this next generation of REVVL smartphones. The REVVL 5G features a 6.53" FHD+ Display, a triple rear camera and a 16MP front facing camera as well as a 4,500 mAh battery to power this 5G capable smartphone. The REVVL 4+ features a 6.52" HD+ Display, dual rear facing cameras and a 4,000 mAh battery whereas the REVVL 4 sports a 6.22" HD+ display, 13MP rear camera, and a 3500 mAh battery. To see all of these in action, check out the unboxing video here.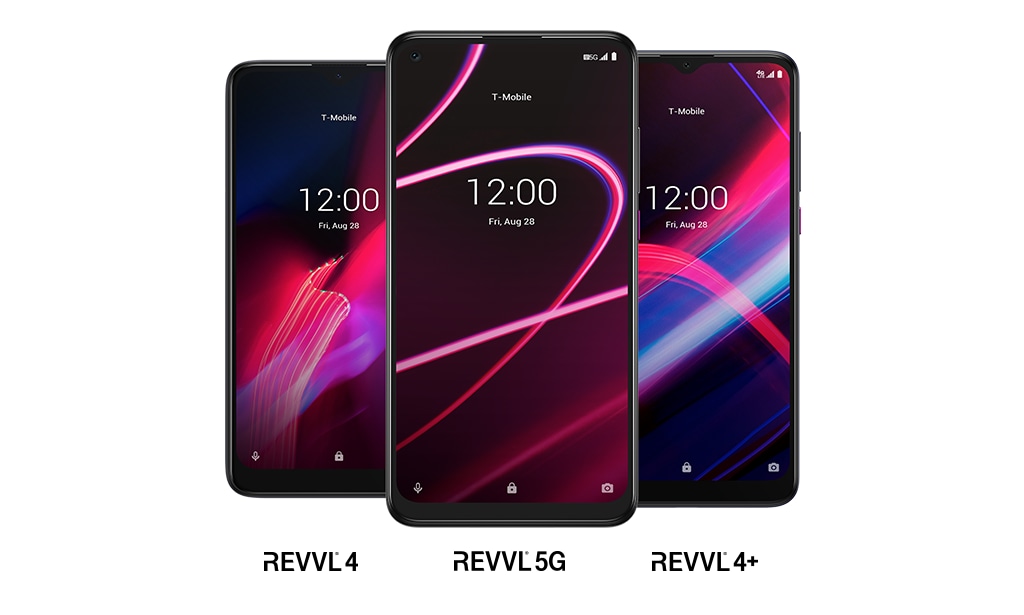 And here's a look at the full specs:
REVVL 5G
Camera: 48MP (main) + 8 MP (Super Wide) + 5MP (Macros) RFC with 16MP FFC
Battery: 4500 mAh
Color: Nebula Black
OS: Android 10
Screen: 6.53" 19:5:9 FHD+ Display
RAM: 6GB
ROM: 128GB
Bands: 5G n71/n2/n66/n41/n25 LTE 2/4/66/25/26/41/71
Security: Face unlock and fingerprint sensor
Dimensions: 6.51" X 3" X 0.37"
Chipset: Qualcomm SD765
Processor: Octa Core (6*1.8 GHz, 1*2.2 GHz, 1*2.4 GHz)